Introduction
So even though I'm just starting this blog now (a project I've been intending to work on for a long time now), I've decided that I absolutely must backtrack a bit to include some of my favorite images from the summer. Early in July, my boyfriend Gary flew out to D.C. from L.A. (lots of cities with initials) to attend the wedding of my friends Katie and Jason. Even though I hardly put my camera down for 5 seconds the whole night, I still somehow managed to drink enough not to notice that I had broken both straps on my dress and had fake eyelashes hanging from one eye.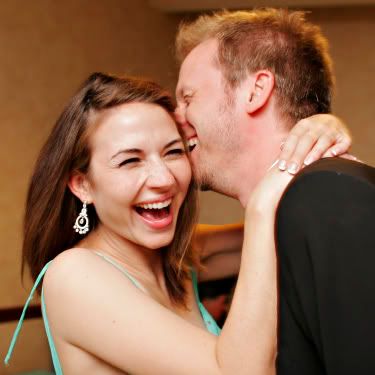 (GK must be funny)
The next day, we drove up to NYC and checked into the legendary Chelsea Hotel, where in 1978 (the year I was born), Sid Vicious murdered his girlfriend, Nancy Spungen.
The place looked and seemed haunted, and although we didn't get any ghost sightings, we did get several peeks at our elderly neighbor (a Chelsea resident) wandering the halls in his underwear. It was at that moment that I decided that I someday I would really enjoy being rich and crazy and living at the Chelsea Hotel.
(the hallway outside our room at the Chelsea)
After tooling around NYC for a couple of days and checking out my sister-in-law's show at the Mercury Lounge, Gary and I hopped on a bus to Boston. I had never actually ridden a bus before aside from the schoolbus, some 14 years ago for the last time. It was enough to decide that I'm really not a bus person. It was a fantastic opportunity for people watching though. Wow! We checked into what was essentially a hostel, although they called it a B&B online. It was the most minimal room I have ever seen. Really just a large closet with a bed that took up 90% of the space. Very insteresting but every hotel room in Boston was reserved that week for a Microsoft Convention. Go figure. We were only so glad to get the hell out of that room to head down the street to Fenway Park for their annual "Hot Stove" fundraiser. It was rainy and nasty out. They had to move the musical acts inside under the bleachers. But everyone rocked out anyway and I got to see my niece and nephew running around and wreaking havoc. And that's always a good time. Kay and Michael and friends put on a fantastic show and leave it to Kay for calling out Howie Day for being an asshole in previous years. The crowd loved it. Feel free to kick Howie Day in the face the next time you see him. :)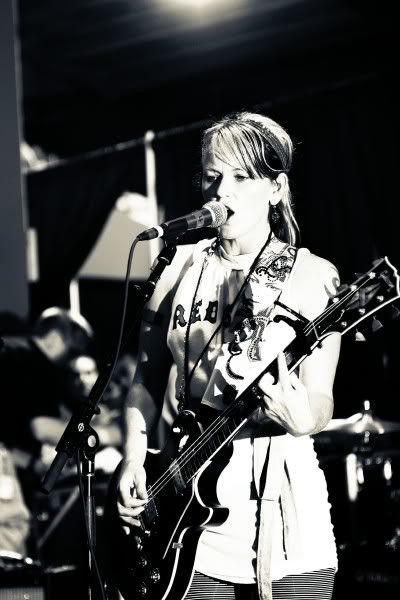 (Kay at Hot Stove)