Robert Plant Sighting at Graceland
Gary and I spent last Thursday in Memphis doing the whole Elvis/ Graceland thing. We were planning to dress up as Elvis & Priscilla for Halloween to run around the streets but alas, we arrived a day too late and without costumes so that didn't quite come together. We did however, get to eat some delicious pork BBQ sandwiches at a really crummy "restaurant" (the only one open at Graceland that day) and in line right in front of us was a guy who looked curiously like Robert Plant of Led Zeppelin. I was sure it was just some random guy until we detected the british accent and overheard him on his cell phone saying "this is Robert, blah blah blah Rolling Stone..." So he ended up sitting at the table right behind us and instead of looking like idiots with our cameras, Gary caught this sweet picture of me and Robert Plant. :) Gary circled Robert Plant and labeled him so that you won't miss him.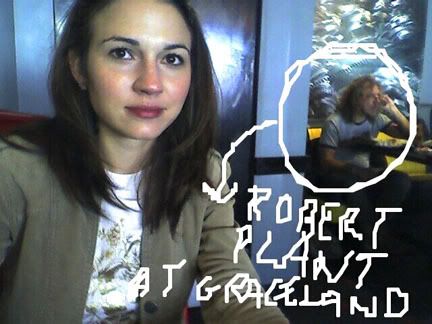 I showed this picture to the girls from Shut Up Stella the other night when they asked about the trip. Kristin thought it was a great story, Jessie looked puzzled and asked "who's Robert Plant?"
Labels: Celebrities