SATURDAY
GK and I decided to drive out to the beach to the American Botanical Pharmacy to pick up some of Dr. Schulze's super food which we like to put in smoothies every morning. It looks like fish food but it is so much better for you than taking regular vitamins. It's all stemmed on the idea of keeping the bowels working properly to create health and prevent disease. It also just makes you feel really good and energetic.
After stopping by Party On La Cienega, a paperie to check out some paper options for my business cards and stationary, we headed over to Sprinkles in Beverly Hills to pick up some cupcakes for my party.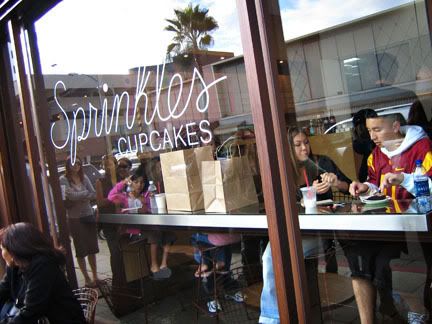 There were literally dozens of people in line to get themselves a $4 cupcake.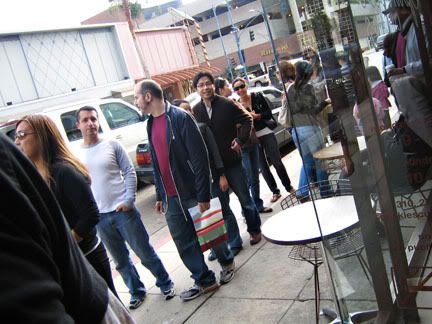 This place is basically the L.A. version of NYC's Magnolia Bakery and just as yummy. We picked up 2 dozen cupcakes for the "bargain" price of $72. I'm telling you, everything here is soooo expensive!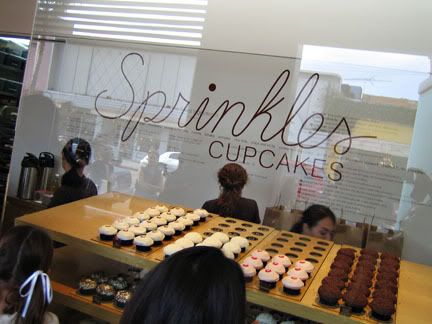 At this point we were both exhausted so we headed home to rest up before the party. As we drove down Hollywood Blvd, we glanced to the left and sitting in a convertible on the side of the road were the guys from Velvet Revolver posing for a photo shoot. The first thing you couldn't help but notice was Slash behind the wheel, complete with hat and sunglasses of course. Scott Weiland was reclining and looking cool. Gary made me get out of the car to get a quick picture with my little Canon Powershot. I've been so happy to have this camera with me lately as the 5D is just too huge to lug around most of the time. But this was one of those moments where I would have been thrilled to have my 5D with my 70-200 2.8 lens pointed at these guys. The photographer doing the shoot was using what looked like a Hasselblad with a digital back. No lighting at all though which sort of surprised me. I guess he got lucky and managed to find the only overcast day I've seen since arriving in L.A.
I only recognized Slash and Scott, I had to look up the names of the other guys. :)