GRIFFITH OBSERVATORY
Last night Gary took me to the newly opened Griffith Observatory up in the hills. The place is literally right above where we live in Los Feliz but we had to drive to Hollywood in order to catch a shuttle up to the observatory.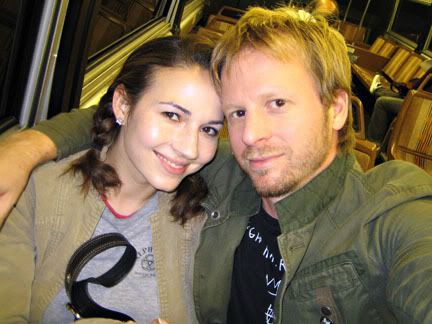 Gary & Justine on the bus
Outside view of Griffith Observatory
The place is pretty spectacular looking, especially at night. There is a memorial to James Dean near the entrance since Rebel Without A Cause was filmed there. Of course as soon as we got there I had to eat immediately. I must have put on 6 or 7 pounds worth of Denny's & Cracker Barrel and other American "cuisine" during the cross-country drive and I seem to need constant sustenance in order to survive. :) Luckily, there was a terffic cafe run by Wolfgang Puck right there, yum yum yum. We spent a couple of hours browsing all of the new exhibits. The place had been closed for 4 years until this week so we were some of the first people to be up there in a long time.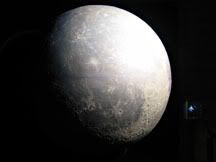 The moon
There is also a spectacular view of all of L.A. from the roof. Of course I was cold though so we didn't stay up there for long. We also didn't get a chance to look through the big telescope because of an hour-long line. I think that's just too long to wait in line for anything.
I think my favorite part of the whole place was when we visited the planetarium, it was a narrated show that really managed to make you feel insignificant and unimportant in the grand scheme of the universe...and it was just amazing to hear about the new technology that is going to bring humans to visit Mars very soon. Gary's favorite exhibit were bits and pieces of meteorites on display. They even had some polished up into saucer-type shapes so that you could feel them. They are actually very hard metals (irons etc.) and not rocky like you might expect. There was also a 'create your own impact creator' machine, very cool!
Labels: Personal