WELCOME TO LA PARTY
Justine, Michael & Kay
Last night Michael and Kay threw me a great party at their house to welcome me to L.A. It was so great to catch up with so many old and new friends. Kay served some terrific middle eastern food which was so delicious and the cupcakes were a big hit. They even came with these cute little wooden forks so that you don't have to get your hands all dirty. However Kay had a bit of a freak out over the forks, apparently she has this weird unfinished wood phobia and couldn't be anywhere near the things.
The only other person I know who has this sort of thing is Kelly and her issue is cotton balls or anything that feels cottony, like fleece blankets and such. It is just the weirdest thing.
Jamie & Lawrence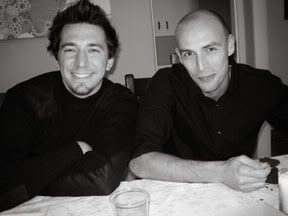 Eric & Andy (my friends from high school)
me and my cousin Susan
Stephanie & Justine
TREO PARTY
Okay so at one point during the party someone looked down at the table and noticed that there were about a million treos just lying around. We thought, oh that's so L.A. that we all have the same phone so I had to take a picture. Kinda makes you want to throw up, doesn't it?
I SPEAK VULCAN
I'm not sure if it was a good idea for me to be my own bartender last night because apparently I make really strong drinks and that definitely kicked in by the time Gary and I got home. I don't remember much of this but he said I refused to leave the couch so he had to remove all of the cushions and turn the couch into a bed and sleep there with me. Only I don't think he slept much because he said I was speaking "vulcan" in my sleep all night. Sorry Gary. Luckily I took some excedrin before passing out so I feel fine today although I have to admit I'm still wearing my fake lashes from last night. :)
Labels: Personal