SHANNON'S 29TH BIRTHDAY
I have been really bad about blogging lately and I apologize to anyone who actually reads this regularly. I'm sorry but I'm back now and I feel as though I have some major catching up to do. So first thing is first. Last Saturday it actually rained in L.A. Not just rain but torrential downpour. Of course this was the one night we really had somewhere to go. It was Shannon's 29th bday and so GK and I decided to join her birthday bash at the Townhouse in Venice. Shannon was my big sister in my sorority in college and we had not seen each other in about 6 years so it was a great reunion and so wonderful to see her again.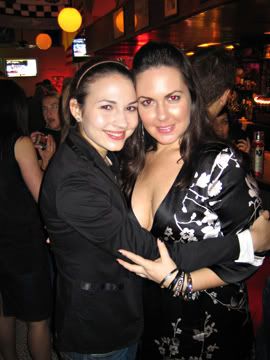 Don't we look like we're still in college? ;) Do you think we could pass for 19 or 20? Ahem!
So it turns out that Shannon works for Nickelodeon and she is responsible for hiring photographers for promo shoots etc. How funny is that? So it looks like sooner or later we might actually get to work together and what a blast that will be!
She also invited me to join her group called "Five Chicks & A Fag" or "Five Chicks" (abbreviated). It's basically just a chance for a bunch of cool chicks to get together with their gay boys and to drink lots of martinis and gossip etc. I just love it, I know it will be a blast. I couldn't believe how organized they are with their cute logo and minute-taking at meetings.